News Room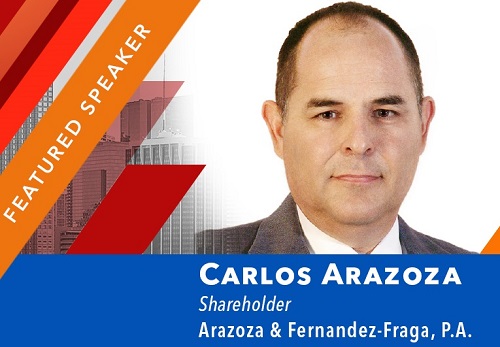 Carlos Arazoza,speakers at the 2016 FIBA WEALTH MANAGEMENT FORUM
Next month, in May 5-6, Carlos Arazoza, shareholder of Arazoza & Fernandez-Fraga,P.A., will be one of the feature speakers at the 2016 FIBA WEALTH MANAGEMENT FORUM.
For more information visit http://www.fibawealthmanagement.com/speakers/carlos-aroza/
Built on a legacy that spans more than 35 years, FIBA is a non-profit trade association and international center for financial excellence. The Florida-based, and globally connected, organization's membership includes the largest financial institutions from Europe, the United States, Latin America and the Caribbean.
The core of FIBA's work is education; FIBA applies practical ideas and real world solutions to train and certify thousands in anti-money laundering compliance. FIBA is recognized by the financial services industry, regulators and law enforcement as a Center for Excellence for its knowledge and expertise in anti-money laundering compliance and its high-level education and training programs. FIBA's comprehensive education programs feature the AMLCA and CPAML Compliance Certifications in partnership with Florida International University's (FlU) College of Business Administration, where industry practitioners are kept up-to-date on relevant trends and changes. Through its association, FIBA ensures that its Leadership Academy provides the most effective compliance coursework worldwide.
INFORMATION TO OUR CLIENTS : HURRICANE IRMA
Dear Clients, We hope that you, your families and staff are all safe and sound after Hurricane Irma. All the Arazoza & Co team and their families are safe. Our office is open to continue offering all our services.